Take It Off: The Best Makeup Removers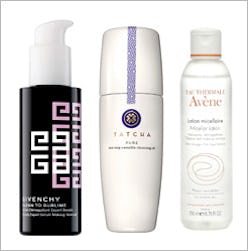 We spend so much time determining which makeup to apply that it's only fitting we also discuss how to take it off! Whether you are working on a budget, have sensitive skin or are always on-the-go, you'll find the perfect makeup remover for your lifestyle in our lineup today!
Serum: Givenchy Beauty Clean To Sublime Makeup Remover, $39
No water necessary, this milky serum can be applied directly to your skin as is and wiped off with a cotton pad for a makeup-free, moisturized face.
Lotion: Avene Micellar Lotion Cleanser, $20
Great for sensitive skin, this hypoallergenic French find is water-based for a hydrating and effective, yet non-oily removal process.
Travel-Friendly: MAC Remover Wipes, $20
A Team Zoe go-to, these convenient wipes are essential for any frequent flyer.
Gel-Cream: Mario Badescu Eye Makeup Remover, $6
Couple this gel-cream with the brand's Cucumber Makeup Remover for gentle, affordable cleansing. A bonus? It's safe for contact lense wearers!
Luxury: Sisley-Paris Makeup Remover, $120
If you're in the market to really splurge, we suggest this super-luxe, vitamin-enriched remover.
Staff Favorite: Tatcha Camelia Cleansing Oil, $48
We took a team vote and this one-step cleansing oil came out on top as the RZHQ favorite for removing makeup. Formulated with an anti-aging combo of green tea, rice bran and red algae extracts, it is a no-brainer.
Drugstore: Almay Waterproof Makeup Remover Pads, $6
An update on their cult-classic remover pads, these wipes are to be used for the more heavy-duty jobs—aka—waterproof mascara doesn't stand a chance.