Fall's Best Colors For Your Complexion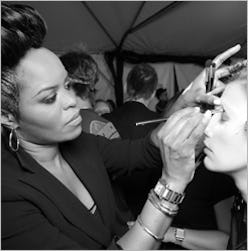 It's unanimous—makeup artists everywhere are going crazy for a gorgeous smoky eye and deep, dramatic lip this fall. Find out how to get the look using the best shades for your skin tone so the end result is picture-perfect!
Make Up For Ever Star Powder in 944 ($20), NARS Eyeshadow in Namibia ($24), Shiseido Cream Eye Shadow in Tin ($25), Lancome L'Absolu Rouge in Rouge Desire ($30), NARS Lip Pencil in Mysterious Red ($25)
Uzo, International Makeup Stylist for NARS (pictured above): "Nothing is more elegant and chic than layers of smoky, matte grey and matte navy on the eyes for fall! For fair complexions use a lighted grey like NARS Single Eyeshadow in Namibia. Finish off with black eyeliner and a volumizing mascara for a fresh alternative to a black smoky eye." For a deep lip on fair complexions, "go for a classic, crimson red!"
Adam Darais, National Celebrity Makeup Artist for Lancome: For ladies with fair skin and light hair, "don't forget your brows! You will feel washed out no matter, how much or how little makeup you put on without them." For the lips, Adam recommends L'Absolu Rouge in Rouge Desir—a velvety crimson shade.
NARS Lip Pencil in Cruella ($25), NARS Duo Eyeshadow in Paris ($34), Clinique Chubby Stick Shadow Tint in Curvaceous Coal ($17), Lancome Artliner in Chrome ($30), Lancome L'Absolu Rouge in Caprice ($30)
Uzo: "A full-bodied red lip which is intense, deep and matte is the ultimate fashion accessory for fall. It looks great whether it's paired with minimal makeup or amped up with a serious smoky eye. Medium complexions can pull off deep, true reds. On the eyes, use a dark grey shade blended in with light grey."
Adam Darais: "For smoky and sparkly night eyes use a metallic, silver-y liner (like Artliner in Chrome). Smudge it up… It won't fall or move all night long!" He also cites L'Absolu Rouge in Caprice as one of his "top two bolds for fall" in the true red family.
NARS Eyeshadow in Kamchatka ($24), Clé de Peau Beauté Extra Rich Lipstick in #305 ($65), Laura Mercier Caviar Stick Eye Color in Sapphire ($26), Dolce & Gabbana Classic Cream Lipstick in Ultra and Amethyst ($32 each)
Christian McCulloch, National Makeup Artist for Dolce & Gabbana: To get the perfect deep lip for dark skin tones, McCulloch suggests combining two shades to achieve a deep, plummy red—a deep wine red (Ultra) and the perfect jewel-tone purple (Amethyst). "Together they create a very sexy and dramatic red, but somehow has enough red in it to not look too harsh or too gothic. This color is particularly flattering on darker skin tones. Reds and deep plum shades with blue undertones flatter darker skin tones the best."
Lucia Pieroni, Makeup Creative Director for Clé de Peau Beauté: This fall's deep hues are a "perfect palette for brunettes with dark eyes. Once lips are conditioned, apply a light layer of a cool, semi-matte burgundy formula (like Clé de Peau Beauté's Extra Rich Lipstick in #305). Next, blot with a tissue and reapply to just the center of the top and bottom lips. This creates a soft-focused effect, a big trend for the upcoming season."
Uzo: When it comes to smoky eyes "for deeper complexions, go for navy with grey undertones."