Good-For-You Skincare: 5 Natural Oils To Try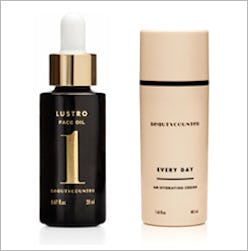 Natural facial oils are all the rage but how to know the difference in benefits from sea buckhorn to rosehip? Today Christy Coleman, VP of Creative Design at healthy beauty line Beautycounter, breaks it all down.
"I started adding many of these ingredients into my own personal beauty kit 20 years ago and was so excited to incorporate them into our collection.", Christy told us.
Beautycounter launched earlier this year with the mission to create chic, effective and chemical-free products for skin and body, and the line has been building a cult-following ever since. According to Beautycounter, they have one of the strictest ingredient screens in the industry, and ban over 1500 chemicals. How chic is that?
Beautycounter's facial oils include a special blend of rosehip, organic grapeseed, sea buckthorn, organic marula, meadowfoam seed, wild chamomile and other natural oils. Beautycounter The Facial Oil Collection, $175.
Here, Christy shares her top 5 favorite natural facial oils.
1. Sea Buckhorn Oil "Sea buckthorn comes from the Himalayas and is high in antioxidant Vitamins A, C, and E, essential fatty acids, skin fortifying minerals like zinc, selenium, and copper; and high concentrations of Omegas. It's also a powerful healing oil and is great for burns (including sunburns, eczema, and small cuts)."
2. Meadowfoam Oil "Meadowfoam is native to Northern California, Oregon, Vancouver Island, and British Columbia. The oil extracted from the seeds of the plant is one of the most moisturizing around since it's so high in Vitamin E and because it's composed of 98% fatty acids, it locks in hydration and helps give your skin a nice barrier against the elements too."
Lustro face oil product samples at the Beautycounter offices. Photo via @beautycounter.
3. Coconut Oil "Coconut oil has been a cult product for centuries. It's great for calming inflamed and irritated skin as well as softening and moisturizing dry hair. I go through half a jar a week (and my dog, Rider Pearl, gets the other half). I truly could not live without it."
Beautycounter's cream cleansers and moisturizers all contain organic coconut oil. Beautycounter everyday hydrating cream, $38; Routine cream cleanser, $22; Every night hydrating cream, $38; Any time eye cream, $32.
4. Rosehip Seed Oil "Rosehip seed oil is used around the world and for good reason! It's one of my favorites because it's so high in Vitamin C and essential fatty acids that work to repair damage and condition the skin."
5. Marula Seed Oil "Marula seed oil comes from the nuts grown in Southern Africa. It's incredibly high in oleic acid (Omega 9) so it can be deeply hydrating but it also absorbs quickly, so it doesn't feel heavy or leave sticky residue on the skin."