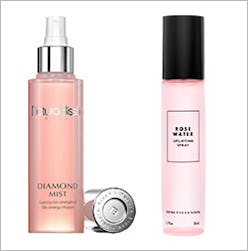 So, we all get it—it's just plain hot outside, and popsicles and air conditioning are generally the preferred cool down methods. In terms of beauty however, a feasible product to keep on hand for summer prettifying is a great face mist to act as an instant refresh for a myriad of warm weather woes.
PRE/POST MAKEUP APPLICATION
L to R: MAC Fix+ ($21), Urban Decay Chill Setting Spray ($29), Natura Bisse Diamond Mist ($79).
First summer beauty battle to tackle would be that of runaway makeup, which is rarely a good look no matter how gorgeous the gal. Natura Bisse's Diamond Mist is a great multi-tasking option, as it serves as a skin primer pre-prettifying, a setting spray after the fact and can also be reapplied throughout the day for an invigorating cellular boost. Urban Decay's spray delivers a chilled microfine mist to seal your makeup in place so your artful application stays put with a cooling effect on contact. For ladies with sensitive skin, MAC's Fix+ calms the complexion with green tea and cucumber to impart a radiant glow post-primping.
ALL-NATURAL OPTIONS
L to R: Tata Harper Floral Essence ($85), Beauty Counter Rosewater Spray ($32), Kora Organics Citrus Mist ($44).
We're big fans of natural and organic products—could you tell?! To keep your lineup as chemical-free as possible, we love Kora Organics' citrus spray for an energizing boost and Beauty Counter's rosewater formula for a soothing spritz. For a dose of all-natural hydration, turn to Tata Harper's Floral Essence, which is packed with antioxidant-rich ingredients.
ADDRESSES & PREVENTS FINE LINES
L to R: Ole Henriksen African Red Tea Face Mist ($28), Clark's Botanical Moisture Mist ($45), Kiehl's Toning Mist ($26).
If anti-aging properties are at the top of your priority list, you're in luck with this power trio! Kiehl's Acai Toning Mist balances and refines skin's texture, while Ole Henriksen's African Red Tea blend tightens pores without over-drying. Clark's Botanical's Cellular Lifting anti-bacterial mist targets free radical damage to address wrinkles and fine lines, in addition to preventing blemishes.
TRAVEL-READY FORMULAS
L to R: Avene Thermal Spring Water ($9), Evian Mineral Water Spray Duo To Go ($14), Tatcha Dewy Skin Mist ($48).
If on-the-go hydration is what you aim for, turn to cult favorite mineral water sprays from Avene and Evian. Their popularity is well-deserved—they're top of the line options for travel-friendly refreshment! For a luminous boost in a bottle, we love Tatcha's Dewy Skin Mist radiance-imparting properties and compact packaging.
Do you have a favorite face mist in your beauty arsenal? Tweet us your faves @thezoereport!