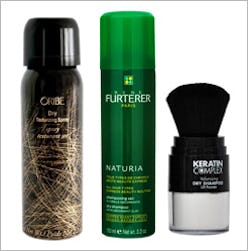 As all busy women understand, sometimes there just aren't enough hours in the day to devote to a thorough blow-out. It happens to us more often than we'd like to admit, so we've compiled a list of fab dry shampoos that revive our manes in flash!
Keratin Complex Volumizing Dry Shampoo Powder, $24
Brush-On: This formula disappears into your roots as you brush it in—our Editorial Assistant Jenn Ash likes that it doesn't dry out your hair and smells great!
Rene Furterer Naturia Dry Shampoo, $24
Great for dark hair: Marisa Runyon, Director of Brand Partnerships, recommends Rene Furterer's Naturia spray for gals with dark hair!
Oscar Blandi Pronto Invisible Volumizing Dry Shampoo Spray, $25
Invisible: This spray adds volume to limp strands and goes on clear, making it a staple in our Brand Integration Director Sarah Aguas's makeup bag.
Klorane Gentle Dry Shampoo, $18
Gentle: Style Director Jill Lincoln prefers this cult favorite Klorane product, ideal for ladies that prefer to keep their haircare routine au naturel.
Cornstarch + a makeup brush
DIY: Our Product Development Associate Kendall Cohan's secret weapon is simple cornstarch applied with a large makeup brush—voilà, a DIY way to degrease your roots!
Oribe Dry Texturizing Spray, $20
Texturizing: Given the many diehard Oribe fans at RZHQ, this spray is a go-to for concealing greasy locks while adding body and volume—plus, the bottle is perfectly purse-sized for on-the-go touch ups!
Batiste Dry Shampoo in Brit ($9), Tresemme FreshStart Dry Shampoo ($6), Pssssst Instant Dry Shampoo Spray ($6)
Drugstore picks: Batiste, Tresemme, and Pssssst all pass the Team Zoe test for effective formulas that won't break the bank!
Frederic Fekkai Au Naturel Powder Clean Dry Shampoo, $19
Hard-to-find favorite: Members of the digital team love this now-discontinued powder, but if you do some digging online you can still scoop it up—in bulk, may we suggest!