This $12 Clay Mask Not Only Clears Acne But Brightens Post-Acne Dark Marks, Too
Plus, more dermatologist-recommended options.
@michellelin.lin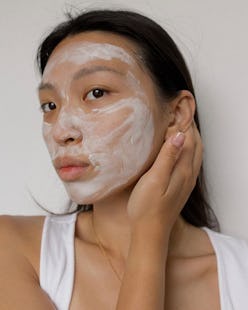 We may receive a portion of sales if you purchase a product through a link in this article.
Whether your pores are feeling congested or you simply need a skin refresh, clay masks are an excellent tool to have in your skin care arsenal. Because clay draws out impurities like dirt and oil, they're ideal for oily or acne-prone skin, but can also be useful for a variety of skin types — it's all about finding the right formula. To get the real deal on the best clay masks for all skin types, TZR turns to a top industry expert for the best ingredients, products, and recommendations for maximizing them all.
Dr. Loretta Ciraldo MD, a Miami-based board-certified dermatologist and founder of Dr. Loretta skin care, says her number one tip is to avoid irritants. "When choosing a clay mask, be sure that it does not have any artificial colorant or dye in it," she tells TZR. "Since the clay will penetrate into pores, it is very sensitizing if the mask has artificial dye which can irritate and redden our skin." However, due to the purifying nature of clay masks, even the gentlest formulas may be too much for super-sensitive skin. "I generally don't recommend a clay mask for sensitive skin since clay is meant to draw out impurities and can sometimes be harsh," Dr. Loretta says. Instead, she recommends going for something more gentle yet still impactful, like the Dr. Loretta Tightening Detox Mask which has been shown clinically to lessen redness and increase skin elasticity.
When applying a clay mask, Dr. Loretta advises first cleansing and fully drying the skin. Then, apply an opaque layer over your entire face and leave it on for 10 to 20 minutes. "Then, it is very important to wash it off thoroughly with tepid water," she says, adding that she recommends at least 10 splashes of water to fully remove the mask. You'll want to pay special attention to the rest of your routine post-mask, too. "Since masks do remove some surface dead cells the products you apply after masks will penetrate better, so it is wise not to apply acids after masks for at-home masks," she says.
Ahead, get Dr. Loretta's recommendations on the best clay mask for all skin types.
Best Clay Masks For Acne & Oily Skin
Best Clay Masks For Dry Skin
Best Clay Masks For Combination Skin