6 Beauty Buys To Cure Your Quarter-Life Crisis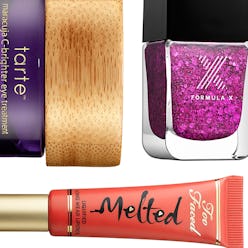 We all go through a quarter-life crisis but sometimes the cure is just a few good beauty buys to make you feel great again. From a stellar antiaging routine to bright colors to add into your beauty stash, these 6 products are all you need to kick your phobia of getting old. Besides, just like wine, we only get better with time.
Forever Young
Choose: A Red Orange Lipstick
A bright lipstick is playful in a young-but-not-too-childish way and is a chic alternative to a mature red.
Choose: A Brightening Eye Cream
You are never too young to prevent wrinkles. Choose an eye cream than slows down the aging process and reduces the look of dark circles–a godsend for curing the evidence of late nights.
Choose: An At-Home Chemical Peel
It's like getting a professional chemical peel but on your own time. Now you can smooth fine lines and reduce the appearance of pores at home.
Choose: A Sexy Fragrance
Now is your time to find that perfect signature fragrance–just make sure it doesn't remind you of grandma.
Choose: A Fun Nail Polish
There's nothing like a glittery pink nail polish to put a pep in your step again.
Choose: An Antiaging Hair Serum
For many, one of the first things that comes with age is hair loss. Grab an antiaging hair serum that thickens and prevents hair from falling out.