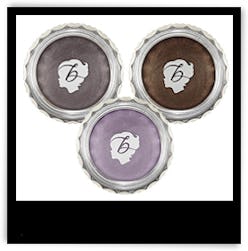 You've probably assessed by now that we have a love-love relationship with Benefit Cosmetics. Anything from the reputable brand that pops up on our radar instantly becomes a lasting member of our beauty cabinets. As expected, it took no time for us to fall head over heels for the star of today's report: Benefit's Creaseless Cream Shadow—the newest addition to the Team Zoe spring makeup arsenal.
Crease-resistant and smudge-proof, Benefit's long-wear shadow will instantly give your gaze a boost with a blast of vibrant color. With 10 stunning shades to choose from, you'll undoubtedly find a hue that suits you and any occasion you attend, while the easy-to-glide-on formula makes this pick as practical as it is pretty. With all this in mind, there's no reason not to swap out your go-to shadow and dabble in one of these crush-worthy creams. We're willing to bet you won't blink twice!
Availability: Benefit Creaseless Cream Shadow ($20 each). For additional information, visit Benefitcosmetics.com.