Bella Thorne On Overcoming Her Identity Crisis And Why Trying Accutane Was The Worst Decision She Ever Made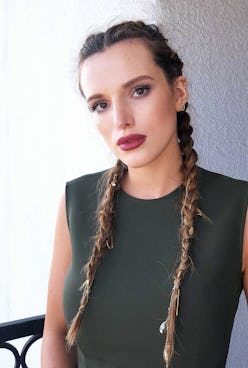 When it comes to fiery 18-year-old Bella Thorne (we're referencing her personality as much as her red hair), we recently learned there's more than meets the eye. We sat down the the actress and Burt's Bees' #LoveYourNature campaign spokesperson to talk all things beauty, what she loves about herself and how she claimed her newfound confidence.
Get To Know Bella
English As A Second Language
"I'm really excited to be partnering with Burt's Bees for the #LoveYourNature campaign. It's important to love everything about yourself, even the weird things that people tell you are terrible. I was bullied heavily for speaking Spanish growing up—it was my first language. When I was younger, I didn't like that I was Cuban, nor did I connect with my heritage. I went to a suburban school and it wasn't accepted to speak Spanish there. I hated that part of myself, which is so weird because it's in my blood. It wasn't until my quinceañera that I finally began to love being Cuban."
The Struggle To Steal The Show
"Growing up on Disney's Shake It Up, the channel purposely pitted Zendaya and I against each other. I spent so much time trying to be the funnier one and the prettier one. One day I realized I was so unhappy—I hated who I'd become and I didn't even recognize myself in the mirror. After Shake It Up, I really started to find myself. I'm so weird and wacky and I always tried so hard to hide that from people. Even in interviews, I spoke like a character. My publicist had to tell me to stop with the Disney voice. I felt like that was what everybody wanted but it has never actually been me.
Everyone says I have the perfect life because I'm a celebrity, but that just means I have millions more people telling me they don't like my face or my friends. For a while, that really messed me up."
It's Not JUST Hair
"I'm naturally blonde. Before I booked Shake It Up, I had dyed my hair red for another role and it stuck around. My mom and my sister are both natural redheads—I'm the only one that turned out blonde. And I'm Cuban, it makes no sense.
I always wanted to change it back but everyone knew me as the redhead with bangs—that became my trademark. When I finally went back to blonde, I said to myself, Who is this? This is supposed to be the real me and now I love myself as a redhead. I think it fits my fiery, salty personality and totally suits me. I'm brunette now, but next I'm trying a red and rose-gold ombré."
Decisions And Consequences
"Growing up, I hated my acne. I tried Accutane, but nobody tells you that you scar so much worse when you're on it. I even have knee and back problems now because it dries up every oil in your body. That's how you get rid of the acne—it stops your glands from producing oil. Even after all that, I get pimples. I wake up with acne all the time, and I wonder why I even did that to myself. Accutane should be a very last resort.
But when you're so insecure, and you can feel people looking at you like you're some kind of germ, and then you're told you'll never have a pimple again in your life, you think, Sign me up!"