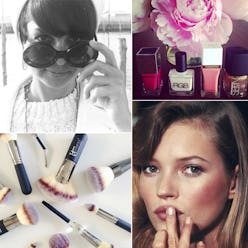 *THANK YOU FOR YOUR INTEREST BUT THIS CONTEST IS NOW CLOSED. STAY TUNED FOR OUR NEXT MAJ GIVEAWAY*
We all have beauty products we absolutely cannot live without, the tried and true essentials we depend upon, the "Hero Kit" if you will. Well now TZR wants an insider look at yours! When you share a photo of your #BeautyHero—either your beauty icon or your favorite products—you'll be entered to win a $100 gift card to Sephora. Just follow the simple steps below for a chance to be 1 of 5 lucky winners!
How To Enter:
1. Follow @TheZoeReport on Instagram and Twitter
2. Post a photo of your beauty icon or a product you can't live without to either Instagram or Twitter—make sure you use #BeautyHero and tag @TheZoeReport in the caption!