Beauty Products That Work While You Sleep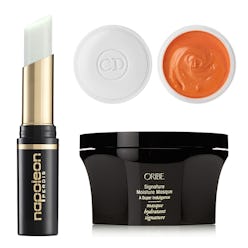 In a perfect world beauty rest would mean you fall asleep, only to magically awaken with flawless skin, perfect locks and manicured nails. Well, that may be a bit of a long shot, but we have managed to round up a handful of products that come close—very close—to doing just that. From hair masks to cuticle creams, shop our favorite products that do the work for you—while you're counting sheep.
Beauty Sleep Has Never Looked So Good
Nail Cream
Massage this cream into nails and cuticles before bed for stronger and faster growth.
Hair Mask
Sleep your way to hydrated, healthier locks with this weekly moisture mask.
Tanning Lotion
This overnight tanner brings your golden glow to life while you dream of a tropical excursion.
Lip Balm
Fight dry, chapped lips all winter long with this vitamin E-infused overnight lip balm.
Face Mask
Improve skin's elasticity and suppleness with this overnight antiaging gel mask.