Beauty Experts Swear By These Cheap Things That Make You Look So Much Better
New product haul loading...
Amazon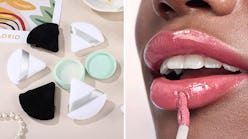 We may receive a portion of sales if you purchase a product through a link in this article.
Just in case you didn't know, you don't always have to invest a ton of money to achieve a professional-quality beauty regimen. True, there's nothing like the occasional luxury beauty purchase, but there are a plethora of excellent and affordable products that beauty experts absolutely swear by. The Zoe Report tapped some of the best makeup artists, hairstylists, estheticians, and dermatologists in the industry for insight on some of their favorite tried-and-true products they use on their clients that give the best results.
Below, you'll find cult-favorite mascaras that cost less than $10 and can hold their own against higher-end options, salon-quality hair products for under $20, and more. Beauty experts swear by these cheap things that make you look so much better — and you'll love them, too.