Help Beat Breast Cancer Beautifully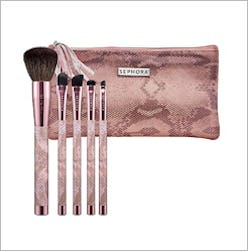 As Rachel conveyed in her editor's letter at the start of the month, Breast Cancer Awareness is a high priority for all of us at The Zoe Report. As a supplement to our initial BCA roundup, we put together the best beauty products that also benefit the cause. Click through now to join the battle, beautifully.
Deborah Lippmann Shape Of My Heart Polish, $17
Paint on your pedi proudly knowing that 10% of the proceeds from your purchase will benefit the Hoag Memorial Hospital in Newport Beach.
Sephora Collection Together In Pink Brush Set, $36
Pink python? Impossible to resist! Stash your cosmetics in this chic pouch and one dollar from your purchase will be donated to the Breast Cancer Association.
Tatcha Enriching Renewal Cream, $185
A Team Zoe favorite, Tatcha's anti-aging cream is even more desirable with the philanthropic promise that $35 of each sale will be donated to BreastCancer.org.
Stila Wink Liner Set, $20
Line your lids in this limited edition shimmering liner and one dollar from your purchase will be given to the Breast Cancer Research Fund.
Boscia Tsubaki Beauty Oil, $46
Reap the endless benefits of cold-pressed face oil with this au naturel concoction; 20% of the proceeds from your puchase will go to The Rose, a groundbreaking charity committed to treating women with breast cancer.
Tweezerman Precision in Pink Tweezers, $22
Tweezerman's award-winning Slant Tweezer has been given a pink makeover in honor of Breast Cancer Awareness; one dollar from every purchase will be donated to Susan G. Komen for the Cure.
EOS Lip Balm, $6
Keep chap lips at bay with these paraben-free balm balls and a portion of proceeds will contribute to breast cancer research.
Aveda Hand Relief Moisturizer, $23
Everyone needs hand moisturizer! So why not invest in one that gives back? With every purchase of this rosemary-mint lotion, Aveda will give $4 to the Breast Cancer Research Foundation.