Spotlight: How To Rock A Beachy Headband Braid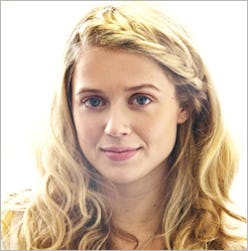 Braids have proven to be all the rage this season—with several different ways to sport them, they're kind of a no-brainer hairstyle for summer. We teamed up with Joico to give you exclusive tutorials of our favorite braided 'dos, starting with this beachy headband look! Click through our slideshow for step-by-step instructions on how to recreate the style for yourself!
Click through to learn how to transform your locks into a beach-ready, braided 'do!
Step One:
Create a diagonal part starting from the very top of the head to the temple area. Add a generous mist of firm hold hairspray before you begin the braid to tame any flyaways.
Step Two:
Grab a ¼ in. thick, 2 in. wide piece of hair & separate it into three sections. Begin by taking the strand in the front to the center, and the center strand to the left—repeat on the right (strand from the right to the center, then center to the right).
Step Three:
As you continue, take a section from the left & pick it up with a bit of the hair from the hairline, then once again cross it over the center. Repeat the same motion with a section from the right.
Step Four:
Alternating the same process (left and right across the center, picking up hair each time), continue braid down towards the ear. Make sure hair remains tight to the head to create a headband effect.
Step Five:
Once you run out of hair along the perimeter of your hairline, finish off the section with a regular braid (stop picking up pieces).
Step Six:
Complete the braid by tying it with a rubber band, then tuck it under remaining loose hair and secure with bobby pins. Ensure extra tightness by criss-crossing bobby pins to reinforce one another.
Finished Product:
After braid is firmly secured, your beachy headband hairdo is complete!