How To Get Gorgeous Beach-Ready Hair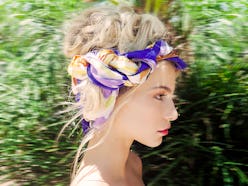 Whether you're headed to the pool or beach this weekend, you need a sexy, messy hairstyle to go with your fabulous swimsuit (and no, we're not talking about that two-second topknot). Today celebrity hairstylist and newly minted TZR contributor Jen Atkin shares two favorite styles for a day spent by the water; a scarf-tied ponytail updo and a trio of bohemian braids. Get Jen's tips and head-to-toe styling suggestions below.
Celebrity Hairstylist, Jen Atkin
"Summer is about blissful ease but there's no reason to compromise on style. Whether you're hitting a rooftop pool party or frolicking through white sand, these looks are all you need to make the right statement."
Photo: Courtesy
For The Pool: Pinned-Up Ponytail
"Poolside hair should be effortless but not boring. I love a pinned up, messy ponytail tied up with a bright scarf. Pair with a gorgeous one-piece and some glamorous shades and you're good to go."
Get the look:
1. "Start by prepping hair with something that will give it a bit of grip and texture. Leonor Greyl's Éclat Naturel is a great base for styling as well as nourishing the hair."
2. "I like to use Leonor Greyl's Secret de Beaute hair oil as well. Not only does it make hair smell amazing, it will also pack in protection and hydration."
3. "Next, pull hair into a high ponytail and use French hair pins to secure random bits to the crown, forming a messy updo. Note: there is no wrong way to pin; 'imperfection is perfect' majorly applies here."
4. "To finish the look grab your favorite scarf, start wrapping at the back of your hair, pull to the front and tie a knot."
Photo: rubarlena
Shop The Products
Style Switch
"Transitional looks are key for summer since we don't always have time to restyle. Modify the poolside hairstyle by removing the scarf and all of the hairpins; the fact your hair has been wound and bound all day makes it for ideal natural waves. Spray Oribe Dry Texturizing Spray to revive fullness and life, then grab your party dress and hit the town."
For The Beach: Boho Braids
"A day at the beach can do wonders for a girl's look; the sun, the fresh air and the salt makes for seriously gorgeous tresses. Can't make it to your private island this weekend? A few simple steps can get you that perfectly tousled look."
Get the Look
1. "Start by prepping hair with a light conditioning and detangling spray. Spray One Prep Spray by R+Co is a great base and gives that extra protection your locks need. Work in some R+Co Chiffon Styling Mousse for grip and texture."
2. "Next, part hair into three sections: one in the middle and two on the sides. Loosely French braid all three sections. Opt for a few smaller braided sections to up the boho vibe."
3. "Finish the look by piecing out the style with your fingers. Skip hair elastics completely; just tease hair a bit to keep the braids in place."
Photo: rubarlena
Shop The Products
Style Switch
"Release the braids and run your fingers through strands to separate. This will result in fabulously crinkled locks. Gather hair as if to make a low ponytail then slide hands down to the ends. Roll hair towards the nape of the neck and use hair pins to hold. This creates the perfect textured faux bob. Finish with a body-con skirt, loose tee and ankle strap heels for a sexy dinner look."