Get A Salon Blowout At Home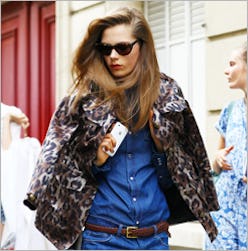 With the advent of blowout-only salons across the country, achieving the perfect professionally dried 'do is more of a priority than ever. But, what if you could get comparable results from the comfort of your own powder room? DreamDry senior stylist Olivia Halpin dishes tips on how it's done!
Click through for blowout tips from DreamDry senior stylist Olivia Halpin!
Oribe Shampoo for Magnificent Volume, $37
"Wash your hair with Oribe Shampoo for Magnificent Volume and Oribe Ultra Gentle Conditioner. Remember to use conditioner only from the ponytail down as to not weigh down your hair."
Oribe Gel Serum, $58
"Prepare for styling with a pea to dime-size amount of Oribe Gel Serum. The Gel Serum provides hold and moisture—the perfect combo for a frizz-free style that will last all night."
Colortrak Tools Clips, $9
"Divide and clip your hair into two-inch sections to make it easier to handle."
Philip B Round Brush, $75
"Choose a ceramic round brush to create curl or a boar bristle round brush to smooth out frizzy hair."
GHD Air Professional Performance Dryer, $225
"Blow-dry your hair with a professional dryer—they make a huge difference! After you dry each section, use the cool shot button to set in curl and add shine."
L'Oreal Satin Elnett Hairspray, $8
"The finish is just as important as the blow-dry! To make your style last all night and keep away fly-aways, mist hair with a non-stick hairspray."
Oscar Blandi Dry Powder Shampoo, $21
"On day 2 of your style, sprinkle dry shampoo at your roots and comb through to absorb oil and add volume. Then sprinkle through the ends and shake your hair for a beachy, messy look."