How To: Amal Clooney's Golden Globes Makeup Look
NBC via Getty Images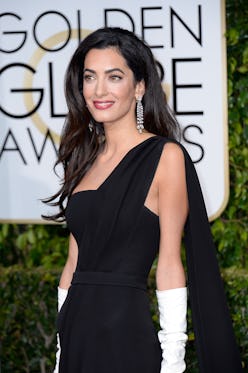 Amal Clooney's combination of Dior Haute Couture, statement-making white gloves and classically glamorous makeup on the Globes red carpet last night was nothing short of fashion and beauty perfection. The newly married human-rights attorney was unsurprisingly gorgeous with a red lip, strong brows and winged eyeliner—a specialty of TZR contributor Charlotte Tilbury, who created the stunning style. Here, see how the makeup guru achieved the look and shop the products she used on Mrs. Clooney. Now if we could just find a George of our own, everything would be perfect.
A True Classic Beauty
"I created a retro beauty look inspired by the silver screen sirens that fits her classic style." -Charlotte Tilbury
Photo: Getty Images
Get Amal's Flawless Complexion
Apply foundation to pre-primed skin and brighten under eyes with a concealer pen. Keep skin dewy–not oily–by dusting a mattifying powder on forehead, bridge of the nose and chin and leaving a natural glow on the cheeks and eyes.
Get Amal's Beautiful Eyes
Apply a shimmery nude shadow on lids and line the entire eye with a brown kohl pencil. To soften the liner, use a creamy eye shadow pencil and softly blend around the lash line. Curl lashes and apply 3 coats of mascara to top lashes and 1 swipe on bottom. Lastly, frame the eyes by filling in brows with a dark pencil and combing out to soften.
Get Amal's Undeniable Glow
Add a touch of powder highlighter on the cheekbones, bridge of the nose and Cupid's bow. Subtly contour with a few swipes of bronzing powder on the temples, hallows of cheeks and along the jawline. Finish with a swipe of blush on the cheeks.
Get Amal's Velvety Lips
Line the lips with a red liner and achieve a perfect velvety finish by layering a matte over a moisturizing lipstick.