Make A Statement With Seasonal Shadow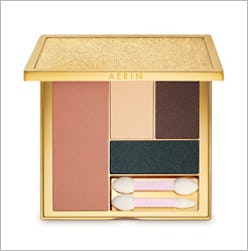 Winter is all about dressing up; give us deep colors, rich textures and sparkle…we are all about the sparkle. And the perfect accessory to this season's glitzy attire? Aerin's Limited Edition Winter Palette from her just-released Midnight Color Collection.
Inspired by the transient shades of midnight, and the impending festive season, the new collection features plush colors such as Brocade, Midnight Lace, Red Velvet and our personal favorite, Emerald. A focus in the Winter Palette, the gorgeous green hue offers an unexpected, dramatic finishing touch to every seasonal ensemble. Team it with Aerin's Cool Gel Eyeliner in Gilt and Lipgloss in Golden Kiss, and you'll yield an untouchable beauty look just in time for the holiday party season.
Availability: Aerin Winter Color Palette ($70)