8 Weird Beauty Tools We Love (And That Work)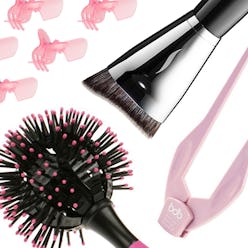 We've all been told not to judge a book by its cover, but when we saw these outrageous beauty tools, we have to admit we did just that. Well, we regret it because these beauty buys may look bizarre, but the results they bring are anything but. From a scary-looking brush to a suction device that plumps your pout, here are 8 of our favorite weird and wonderful beauty tools.
Crazy-Good Beauty Buys
For: Bombshell Waves
This brush might look tangle-inducing but the 360° bristles allow you to manipulate hair from every angle and create a rounder, fuller curl.
For: Flawless Foundation
It might look like someone took a bite out of this brush but the results are nothing short of delicious. The synthetic bristles create an airbrushed finish and the curved shape perfectly blends around the jawline, cheekbones and forehead.
For: A Poutier Pout
This suction cup is certainly not for those who are fainthearted. Place the device over your mouth and use the pump to create pressure and make lips swell.
For: Amazing Eye Makeup
Use this fan-looking wand to shield against eye shadow spills and mascara smudges.
For: A Nick-Free Mani
A cross between hair clips and press-on nails, these manicure shields work wonders on protecting your fresh paint job. Genius!
For: Cleaner Makeup Brushes
The soft bristles and easy-to-hold design make cleaning your makeup brushes as fuss free as the process can get. Just slip the glove on and get scrubbing.
For: Smooth Lips
This device looks more like an electric toothbrush than a lip exfoliator but our pout has never been softer. Apply lip scrub and use the device in circular motions to banish chapped lips instantly.
For: Beautiful Brows
Get perfectly symmetrical brows every single time. Use the mobile arms to aline with your features a get the same shape on both sides.