7 Essentials You Need To Achieve The Coveted Soft-Girl Aesthetic
Revel in all things feminine with this trend, which was practically made for makeup.
@rachelteetyler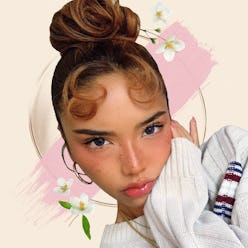 Allow us to introduce you to one of our favorite new beauty looks: soft-girl aesthetic. The viral TikTok makeup trend, which first gained traction a few years ago, shows absolutely no sign of slowing down. That might be because it's pretty easy to pull off — or maybe because the effect is impossibly dreamy. Either way, it's worth taking for a spin, stat.
For the uninitiated, the concept of the soft-girl aesthetic centers around a super-feminine, even "cutesy" look — think long lashes and pink cheeks, with a similar lip color to tie everything together. Take it from us: It's a trend that anyone and everyone can pull off, no matter the season, occasion, or general vibe. Here, we've teamed up with Ulta Beauty to bring you the beauty essentials to make it your own — lots of pink included. And with that, keep scrolling to learn exactly how to bring your own soft-girl look to life.
A foolproof foundation
When it comes to your complexion, keep it simple and go with a foundation that works best for your skin type, whether it be matte, dewy, or somewhere in between. Because the soft-girl look is more about what goes on top of your skin — like blush and faux freckles — you don't need to overthink what foundation you use. With that said, you can never go wrong with IT Cosmetics fan-favorite Bye Bye Foundation Full Coverage Moisturizer with SPF 50+ because it's buildable (so you can rock light, medium, or full-coverage), plus it's made with skin-friendly ingredients and contains a whopping SPF 50. Not only does this formula feel super light and comfortable on the skin, but it always ends up looking flawless. What more could you ask for?
Faux-freckle pen
If you weren't born with a natural spray of freckles across the bridge of your nose, good news: There's a way to fake them, thanks to the proliferation of dedicated freckle pens (or pencils). Designed to be long-lasting and precise, ensuring those "freckles" stay put throughout the day, a formula like NABLA Freckle Maker can deliver spots that look just like the real thing.
Soft pink blush
Blush is at the heart of the soft-girl aesthetic as few things read more "girly" than a pop of pink on the cheeks. For the most natural-looking flush, opt for a cream blush in a pink shade like the about-face Cheek Freak Blush Balm in Quickie, which delivers buildable, easy-to-blend color with a gorgeous finish. Use your fingers to smooth it onto the apples of your cheeks for a sweet, just-back-from-a-jog flush.
Liquid Highlighter
Enhance your skin's natural glow by layering on a creamy highlighter, such as the highly pigmented Milani Conceal & Perfect Face Lift Collection Liquid Highlighter. A little goes a long way with this one, so just use a pea-sized drop and dab it along your cheekbones, brow bone, and on the tip of your nose and Cupid's bow, too, to play up that "cutesy" vibe that goes hand-in-hand with the soft-girl aesthetic. It creates a dewy sheen that catches the light, giving skin a lit-from-within look — but without making it look shiny.
Flirty lashes
False lashes are a good bet for getting the fluttery eyelashes that are a hallmark of the soft-girl look. You can snip them to customize them to your comfort level — and, if you're gentle with the application and removal process, it's easy to reuse the same set several times over. Ardell's Lash Demi Wispies are a failsafe option for beginners and pros alike. Not into falsies? Not a problem: Swipe on Essence Lash Princess False Lash Effect Mascara for mega length and volume, minus the extra work.
Peachy lips
Bring on the gloss. A peachy-pink lip color, like ULTA Beauty Collection Juice Infused Lip Oil in Cranberry + Pomegranate (which also actively nourishes lips with vitamin E), helps tie the look together.