7 CBD Trends To Try For 2020 If You're Tired Of CBD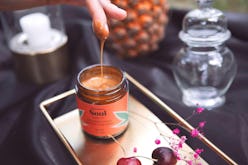 I'm bored of CBD. I'm bored of CBD skincare, and CBD tinctures, and CBD shampoo, and CBD dog food, and CBD toothpaste, and CBD lube. (Those are all real things that launched in 2019, by the way.) So when it came time to look ahead to the CBD trends for 2020, the only thought that came to mind was: Ugh.
I can admit when I'm wrong, though, and in this case, I was very wrong. In 2020, CBD is going be exciting! For starters, it's going to be more inclusive — new beauty brand Kayaire is making sure of that. "What I noticed within the CBD beauty industry was that there is only a handful of minority women of color [making] products, and even fewer [brand] owners," Ebony Clay, the founder of Kayaire, tells The Zoe Report. "This gap shows that the industry did not care to think about or represent us." Her goal? To fill said gap by formulating with people of color in mind. "It's a luxury CBD skincare line for them, made by someone that looks just like them," she says. Kayaire launches in February of 2020.
But inclusivity isn't a trend — it's the bare minimum — so you won't find that on the list below. Instead, you'll hear about the increasing demand for Certificates of Authenticity (or COAs), the rise of the cannabidiol facial, and the fall of "weedwashing."
Ahead, seven CBD trends to watch.
2020 CBD Trend: Nutraceuticals
As the name "nutraceuticals" implies, these are nutrition-based alternatives to pharmaceuticals with supposed physiological benefits — think of them as a step up from supplements. 2020 will bring the official launch of Mighty Self's BALANCE blend, a nutraceutical made with CBD and a host of other healthy, plant-derived compounds (phenethylamine, ashwagandha) to help you focus and de-stress. You'll also notice CBD make its way into holistic therapies, like Ayurveda. To this point, the Botanist recently launched its Herbalist Series, a set of tinctures that combines CBD with botanical essential oils and is rooted in ancient Ayurvedic wisdom.
2020 CBD Trend: More Pain Relief
In 2019, CBD kind of went off the deep end — you know, with the aforementioned dog food and lube and stuff. But in 2020, it's getting back to its roots: pain relief. This is, after all, what CBD does best. Expect to see more along the lines of Love Always, Liz Period Relief Roll-On (for menstrual cramps, Cloud CBD Cloud KUSHON StepPrep (for aching feet), and Switch2Pure Be Chill Body Rub (for full-body relief).
2020 CBD Trend: CBD Facials
Your bathroom shelf is probably crowded with CBD skincare, right? In the year ahead, you'll put those products in the hands of a professional. More and more spas will offer CBD facials, a la GLO Spa in New York City and Alexandra Wagner in Los Angeles.
2020 CBD Trend: COAs
If CBD brands want to be taken seriously by CBD snobs in 2020, they'll have to offer a COA. These certificates let consumers know how much CBD is actually in a particular product, and whether it's full-spectrum (the good kind) or an isolate (the less-good kind), among other things. "All of our customers get COA results from a third-party lab," Scott Campbell, the co-founder of Beboe, previously told TZR. "All of our products are made with the highest quality cannabis, which goes through rigorous testing for cleanliness and purity."
2020 CBD Trend: Brand-Owned Hemp Farms
On that transparency tip, it's likely that 2020 will also see an increase in brand-owned hemp farms. Soul Addict, a CBD brand, started out sourcing hemp from small farms in Colorado; today, it's transitioning to farming its own hemp in North Carolina to have more control over its products. The trend goes both ways: Expect an increase in established hemp farms launching consumer products, like Hudson Hemp, a regenerative hemp farm that recently released a line of CBD tinctures called Treaty.
2020 CBD Trend: Pre-Rolls
You've probably taken CBD as a tincture, slathered CBD on your face, and stirred CBD powder into your smoothie. But have you smoked CBD yet? You will in 2020, thanks to the rise of CBD pre-rolls from brands like Toast, Soul Addict, and Yaupon Teahouse. And to note: CBD won't get you high, like products with THC — but it does have calming effects.
2020 CBD Trend: Less Weedwashing
2020 will be the year the Food & Drug Administration cracks down on CBD. Industry experts estimate that regulations will soon be put in place to limit the claims brands can make about both CBD and hemp — so hopefully, that means less "weedwashing." Because everyone's bored of companies capitalizing on cannabis culture, right?