6 Genius Beauty Drops That'll Give Your Products An Upgrade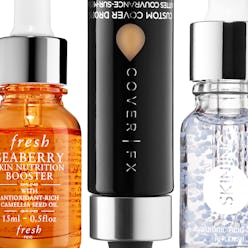 You know the saying: If you want something done right, do it yourself. Well, now that applies to your beauty routine. Have you ever bought a foundation that was just too sheer or a serum that didn't hydrate enough? Thanks to this roundup of genius beauty drops, those products lingering in your makeup bag are eligible for an upgrade. These little wonders let you add coverage, moisture, shimmer, or antiaging properties at your own discretion. Time to get to work!
Stop, Drop And Mix
Give Your Foundation A Boost
Add a drop or two to your liquid foundation for a better match or pumped-up coverage. You can also mix with moisturizer to custom-blend your own BB cream.
Step Up Your Serum
Now that the winter months are upon us, mix a few drops of this hyaluronic acid blend with your favorite serum for extra hydration.
Get A Sun-Kissed Glow (Even In The Winter)
Just because you're spending less time in the sun doesn't mean you have to forfeit your glow. Blend bronzer drops with your foundation to fend off a ghostly winter pallor.
Upgrade Your Antiaging Products
Rich in antioxidants, lycopene, and omega fatty acids that soothe and protect, these drops can be mixed with eye or face cream to give it extra youth-boosting oomph.
Let Your Foundation Shine (In A Good Way)
Add one or two drops to your foundation for a subtle, glow-from-within sheen.
Transform Your Moisturizer
A touch of this golden-glow booster instantly transforms any moisturizer into a gradual face tanner.