5 Products You Need To Get Your Summer Started Right, According To An Insider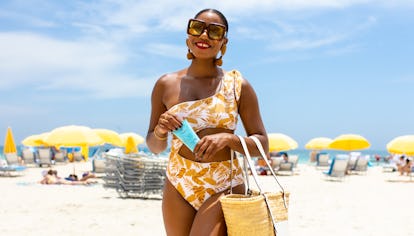 Summertime is officially in full swing and you know what that means: It's time to pack up your winter staples and get those warm-weather necessities out to play. Of course, aside from sunscreen — aka the most important must-have of all — it's totally up to you to decide what belongs in your hot-weather arsenal, whether it be a wide-brimmed hat, bright lipstick, or one of those nifty hand-held fans that come in handy on scorching afternoons. Still, we tapped Miami-based blogger Monroe Steele for her summer favorites just in case you could use some shopping inspiration. After all, living in Miami Beach basically makes Steele an expert on summertime essentials. Ahead, in partnership with Australian Gold, Steele shares five of her mainstay products for the months ahead — including the sun care brand's new plant based SPFs.
1. Australian Gold's Plant Based SPF 70 Lotion and Plant Based SPF 50 Face Lotion — Packed with soothing plant-based ingredients like aloe vera, glycerin, and coconut oil, Steele says these lightweight lotions are perfect for scorching Miami days. She especially loves that they're water-resistant because it means she can take a dip at the beach without having to reapply as often — though you always should reapply every two hours, especially when you're exposed to direct sunlight. "The formula melts right into the skin and doesn't leave any residue behind," adds Steele. Additionally, these SPFs are reef-safe, making them a great planet-friendly option for anyone who's looking to implement more sustainable products into their life.
2. Gucci Oversized Sunglasses — "Having a good pair of sunglasses is crucial if you live in Miami Beach!" stresses Steele, who's super diligent about protecting her eyes when she's out in the sun. "I'm loving these oversized Gucci sunglasses. They give off '70s vibes, which is making a huge comeback in fashion at the moment."
3. Stila Stay All Day Liquid Lipstick in Fiery — When it comes to summer makeup, Steele is all about sporting a bold, statement-making lip, and Stila's Fiery is her trusted favorite. "It's super bright and stays on for hours even when wearing a mask," she says. "And a matte lip that doesn't smudge is a serious must-have these days." .
4. Jo Malone Wood Sage and Sea Salt — As far as summer fragrance is concerned, Steele says she favors light, fresh scents that aren't too strong or overpowering. "This one from Jo Malone is crisp and light with a hint of masculinity, which is what I love most about it," she says. "Plus it really lasts all day long." Sounds like the perfect summer scent, if you ask us.
5. Loewe Small Square Basket Bag — Look, it's always a good idea to have a large, yet still lightweight tote on hand in the summer — especially if you live near the beach. "My Loewe basket bag comes in handy for picnics and beach trips, or even when I take a warm-weather vacation," says Steele. "A large tote that can fit your entire life inside of it is definitely a must to get you through the summer."