4 Beauty Editors Share Their Best Sunscreen Tips for Summertime
Sun protection has never looked better.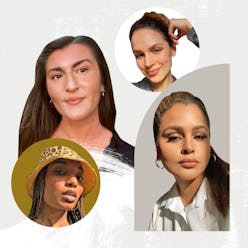 Summer's here and our sunscreen is definitely on. Yes, we wear SPF all year long (and hope you are, too) but we do our best to be even more diligent about it during the summertime because UV rays are stronger and many of us are spending way more time outside. Here we're sharing our top sunscreen tips for not only smarter sun protection, but also how to make wearing it exponentially more enjoyable, with tricks for application, hacks for selecting a formula, and so much more. Just keep on scrolling for all of our handy editor insight.
"Decadent plant-based sunscreens exist, too! And they're great for dry skin like mine because they often contain a lot of moisturizing ingredients in addition to UV filters."
"As someone with dry, hypersensitive skin, I'm always looking for SPFs that contain soothing, hydrating ingredients such as aloe vera, glycerin, coconut oil, and vitamin E, to help retain moisture in my skin while protecting against sun damage. A nice bonus of these formulas is that they feel more like you're using a luxe moisturizer rather than a sunscreen." — Kaleigh, Beauty Editor, Branded Content
Editor's SPF Pick: For dry or sensitive skin, try Australian Gold's Plant Based collection, which harnesses the power of nutrient-dense plants like coconut oil and aloe vera to nourish and soothe — all while protecting skin from sunburns, premature aging, and skin cancer with powerful UV filters.
"For a mineral sunscreen that doesn't look or feel chalky, look for a lightweight formula or one with a tint."
"I switched to mineral SPF when I was pregnant and it took some time to find the right one. I wanted a formula that wouldn't leave behind a white cast on my medium to dark skin, and after a lot of trial and error, I found lightweight liquids that are more serum-y than thick and creamy are the most transparent. For my face, I love tinted mineral sunscreens because they cancel out the white cast while evening out my skin tone and providing light coverage, even without anything else on top. It also acts like a nice primer for the days you're in the mood for makeup." — Shyema, Senior Beauty Editor, Branded Content
Editor's SPF Pick: Australian Gold's Botanical Sunscreen line consist of a variety of invisible and tinted melt-in-your-skin mineral sunscreens. Botanicals found in face serums and creams like vitamin C-rich kakadu plum, calming eucalyptus, and nutrient-rich algae help the formulas glide on without a sticky or goopy feel.
"There's no such thing as a healthy tan. Sunscreens with built-in bronzers give you sun protection and a glow."
"Not to sound like every dermatologist ever, but there's no such thing as a healthy tan, and that goes for 'base tans' too. If you want to be sun safe but still have a glow, there are so many options. You can of course wear sunscreen, then apply your favorite body bronzers or shimmer on top. Personally, I tend to prefer fewer products and steps in the summer so I like a formula that does both: There are sunscreens that contain built-in bronzers for an instant tint, sunscreens that also have gradual self-tanner in them, and sunscreens that contain golden shimmer. That way, you're getting the benefits of UV protection while also capturing the essence of summer sun." — Lexi, Senior Director, Branded Content
Editor's SPF Pick: Get an instant healthy glow and a healthy dose of sun protection at the same time with Australian Gold's Sunscreen With Bronzers range, which includes SPFs infused with wash-off bronzers for a warm sun-kissed sheen.
"Never leave home without SPF. I remember thinking for years, because I have dark skin, I didn't need protection."
"We're so lucky that there are so many great options when it comes to sunscreen formulas now. I have combo skin, so for my face, I rule out oil-based formulas and lean into water-based SPFs — that, and I choose hypoallergenic formulas because I'm sensitive and breakout-prone. My best tip is a simple one: Never leave home without SPF. I remember thinking for years, because I have dark skin, I didn't need protection. Boy was I wrong. I have hyperpigmentation so my skin is always protected now. In addition to skin cancer and early signs of aging, the sun deepens dark spots and also reverses the progress of skincare treatments like retinols and peptides, so during the day, I'm never without it." — Bianca Lambert, Beauty Contributor
Editor's SPF Pick: Australian Gold's General Protection Sunscreens are oxybenzone and octinoxate free and the perfect everyday sunscreens because of their hydrating yet non-greasy textures and easy, featherweight formulas that glide on effortlessly. As a bonus, natural odor-fighting properties from tea tree oil keep you fresh during the hot summer months.