3 Reasons To Gift Yourself This Luxe, Cashmere-Inspired Fragrance This Holiday
It's like wrapping yourself in cashmere.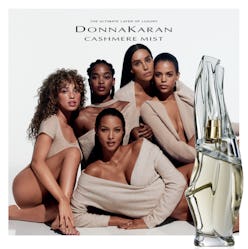 There's nothing that elicits emotion quite like the sense of smell. Case in point? Scent has the unique ability to evoke feelings of warmth, comfort, and happiness — and, in some cases, can even quell stress and imbue confidence. With this in mind, it's no wonder a great fragrance can feel so supremely special. And because fragrance is so personal to the wearer, it's undoubtedly the best thing to gift to yourself. This holiday season, allow us to share why Donna Karan's timeless Cashmere Mist fragrance is the perfect present to treat yourself to this year.
It Feels Like Self-Care
Rich and velvety, this warm floral fragrance will make you feel like you're enrobed in a swath of the most supple cashmere in the world. That's thanks to opulent, complex notes of Moroccan jasmine, creamy sandalwood, and lily of the valley that unfold slowly and deliberately, wrapping your skin in their soft, sumptuous embrace. Because of the safe familiarity the scent gives off, just a few spritzes feels like self-care — albeit in an impossibly indulgent, sensual way.
It Beautifully Elevates Everyday
Just because Cashmere Mist feels like self-care doesn't mean it's a scent you should only wear at home in your loungewear (although we highly recommend doing that too). It remarkably elevates the act of lounging and makes it feel more luxurious — as it should. It's also the ultimate extension of your everyday wardrobe and personal care routine. From the minute you pick up the elegantly curved bottle to apply before walking out the door, to the moment you walk into a room, it's difficult not to be drawn to the addictively comforting, sophisticated energy this one-of-a-kind fragrance gives off.
It's Subtly Lingering
Just like nuzzling into a garment that belongs to someone you love — lightly scented with the fragrance of them — Cashmere Mist will subtly linger on you. Long lasting but not overpowering, you'll get whiffs of its aroma long after you apply it. And, to get even more out of it, spray it at your heart, which will encourage its notes to bloom with every beat.
All this to say: There's eternal power to feeling beautiful, sensual, and comfortable, so this year, celebrate yourself with the gift of Cashmere Mist. In fact, we hear taking care of you is necessary for showing up as your best self, so go right ahead and bump it to the very top of your holiday list. Might we suggest the stunning Cashmere Mist Essentials Holiday Gift Set? It features not only a full-size of the beloved fragrance but also a Body Lotion and Purse Spray, too. It's the ultimate treat-your-self set. Plus, any fragrance lover on your list would be delighted to receive it, too.
It's More Than Just A Mist
If you love the Cashmere Mist fragrance, then there's no doubt you'll adore the aforementioned Body Lotion, as well as the fan-favorite Anti-Perspirant Deodorant (which now comes in an alcohol and aluminum-free version), too. Add the full lineup to your arsenal so you can don Cashmere Mist in a variety of different ways and get the full experience.