3 Luxe Fragrances Our Editors Are Loving This Holiday Season
Plus, advice for picking one that works for you.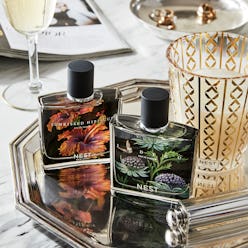 If you think of fragrance as simply a scent, then that's all it will ever be. But when you allow yourself to experience a quality eau de parfum for what it actually is — a finishing touch that transforms your outfit into a statement — then you give those spritzes the chance to amplify your style to the world. And what better time to do that than during holiday party season among your closest colleagues, friends, and family?
This winter, feel just as chic as you look by topping off your perfectly styled 'fit with one of the best winter fragrances that our editors are currently coveting. From a warm and spicy scent inspired by the Mediterranean to a fruity floral fragrance that has the power to elevate your everyday look, their picks feature something for everybody and they're all easily shoppable on Sephora.
Below, three TZR editors spill the details on the luxe fragrances they'll be wearing all season long — which also happen to make thoughtful gifts for anyone left on your list.
A Warm Floral That Sets A Vacation Mood
As TZR's branded commerce editor, Jamie Cuccinelli knows a thing or two about shopping — especially for a good fragrance. "Any friend who has ever gone shopping with me knows that I often head straight for the fragrance section where I'm spritzing and sniffing those little tester cards until I'm pulled away," she says, and NEST New York's Sunkissed Hibiscus Eau de Parfum has earned itself a spot in her seasonal style rotation. "This isn't the coconut body spray you spritzed on in high school. It's a lush, tropical-rooted fragrance, all grown-up." Learn more about Jamie's thoughts on this truly radiant scent:
Key notes: Frangipani, orange blossom, golden amber
The first impression: "This is not my first NEST New York fragrance, so my expectations were already high when I unwrapped the package. And (dare I say?) they were exceeded! At first, it smells both warm and tropical. The floral notes and creamy coconut both come through, but the addition of amber matures and warms the fragrance, making it appropriate for this nearly 30-year-old (28, but who's counting?)."
The test: "Since this fragrance arrived while I was in the midst of a move, it joined me for multiple errands — and yes, saw me through some furniture assembly. Surprisingly, it lasted through all that and helped me feel less of a sweaty mess (a good fragrance can do that!). Ideally though, this scent would be the perfect thing to pack for my next vacation. It's got oceanside resort and spicy margs written all over it."
The final thoughts: "This is an anytime, anywhere fragrance, without a doubt. The tropical florals and fruits here strike a great balance with the gorgeous golden amber, making it fit for both everyday wear and fancier fêtes."
An Exotic Scent That Evolves From Fruity To Woodsy
When it comes to adding personal touches to your sense of style, there's no one better to turn to than Elly Ayres, TZR's senior branded fashion editor. And while she loves a bold pattern or a poppy makeup look as a way to set herself apart from the crowd, Elly admits that nothing matches the statement-making power of a signature scent. "Having a signature scent or two (or three!) is key to bringing your personal style home," she says. "Fragrances add a scintillating layer to your look in ways apparel and accessories can't — it invites a whole other set of senses to be part of your self-expression."
This winter's scent of choice? NEST New York's Indigo Eau de Parfum. Keep reading for Elly's thoughts on the complex fragrance:
Key notes: Italian lemon, orange bergamot, Moroccan tea, Kashmir wood, and wild figs
The first impression: "My first impression of Indigo was the sleek packaging. Its pretty botanical design and glossy glass edges looked luxurious, and while you shouldn't judge a book — or fragrance — by its cover, knowing it'd look lovely sitting on my vanity was a definite plus. The first scent I registered was a fruity aroma, which while strongest initially, seemed to melt into the heavier woodsy and citrus notes upon wearing."
The test: "I wore this fragrance while hanging out with friends at a local Brooklyn bar one night, then again throughout my work day at home. After trying it in both settings, I'd say that the complex scent does feel designed for moody fall and winter evenings."
The final thoughts: "This fragrance is surprising. At first, it does seem a little juicier and fruitier — but those are just the top notes, and throughout the course of wear, the scent really evolves to reveal those woodsier, musky notes I'm so drawn to. Indigo's unique scent profile gave me a new appreciation for how lighter scents can play so well with the darker musks and spice notes — creating a more complex fragrance overall."
A Fruity Floral Fragrance For Any Occasion
You would imagine that the bar for achieving memorable-occasion status is pretty high for a fragrance collector like Hannah Chambers, TZR's branded entertainment editor — which makes her praise for NEST New York's Wild Poppy Eau de Parfum all the more telling. "I am definitely the kind of person who is obsessed with wearing conversation-starter fragrances," she tells me. "When I'm choosing a fragrance, I always want something that is striking and unique without being too confrontational." Read on to find out how NEST New York's Wild Poppy fragrance measures up to Hannah's expectations:
Key notes: Rose de Grasse, Himalayan Jasmine, Pear
The first impression: "Wild Poppy surprised me because my first impression was that it's a very crisp, clean scent, which is not something I expected from a perfume with so many fruity notes."
The test: "I actually wore this to a tattoo appointment! Quick aside: I'm currently wedding planning and recently came across the notion of dedicating a specific fragrance to wear to all of your wedding-related events so you can pull it back out later in life to bring back those special memories. As a fragrance collector, I've been trying out this concept across all kinds of occasions, and felt that a tattoo appointment was a moment worthy of its own special scent. I got a tiny, but colorful, bouquet of flowers and the floral notes in Wild Poppy were perfect for the moment."
The final thoughts: "I would definitely describe this fragrance as versatile. I typically save fruity-floral scents for the spring and summer months, but something about the pear aromas in Wild Poppy also make it work really well as a fall scent."