10 Organic Products Under $10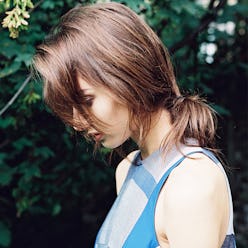 In our attempt to live a healthier lifestyle we try to eat better, exercise and buy organic but what about the products that we're actually putting on our skin? This should no longer be an afterthought to otherwise healthy habits. Shop our natural beauty products that will enhance your green living without breaking the bank.
What goes on your body is as important as what goes in it.
Photo: Vanessa Jackman
Face Wash
Use this blend of cedar wood, grapefruit and lavender to cleanse your face the healthy way.
Hydrating Mist
Spritz this aromatic mist to hydrate your skin and hair while you indulge in the gentle scent of rose petals.
Hairspray
Add volume and flexible staying power to your hair with this lemongrass, apple and lemon infused hairspray.
Body Balm
Apply this multitasking balm on lips, hands, knees, elbows and even hair to nourish, moisturize and relax with a cocktail of essential oils.
Toothbrush
With charcoal blended into each bristle of this toothbrush, negative ions prevent harmful bacteria from growing within the brush and in your mouth.
Lip Balm
Keep lips supremely moisturized all day with a blend of organic rosemary, cocoa butter, hempseed and coconut oil.
Soap Bar
Wash away the day's grime without stripping yourself of moisture with a tonifying mix of shea butter, olive oil, sunflower oil and charcoal.
Bath Soak
Relax in a bath of lavender and eucalyptus before you hit the sheets for the most restful sleep of your life.
Salve
Quench dry skin and soothe eczema with this healing blend of beeswax, aloe vera, vitamin e and olive oil.
Travel Set
Give new meaning to the words "green travel" by taking these organic products on the road.