10 Ways To Update Your Look In 10 Minutes
Michele Morosi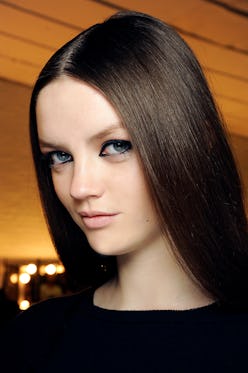 Most of us fall into a boring, repetitive routine when it comes to our daily beauty rituals. Switching it up always sounds like a good idea but can feel like an unnecessary pain. Well, we have you covered. Get our tips for updating your look with a few out-of-the-box beauty ideas–we're talking pouts that pop and eyes that steal the show–all of which can be done in 10 minutes flat! Follow our lead, and you can spend all that extra time you'll have in the morning worrying about what to wear—the way it should be.
Creative Liner
If you already line your lower lash line, make your eyes stand out even more by skipping the middle section altogether and only lining the inside and outside corners.
Photo: Courtesy of NARS
Metallic Cupid's Bow
Give your pout an unconventional update with a swipe of metallic on your Cupid's bow. Try a creamy pencil in silver and a vampy lipstick for a modern evening look. Extra points for using creative color combos. Maybe a coral bow on red lips?
Photo: Courtesy of NARS
Colored Mascara
We've probably all experimented with a colored mascara at some point, but why not really go for it and try contrasting shades on your top and bottom lashes? Talk about an eye-catching look!
Photo: Courtesy of Kerastase
Bright Mani
Keep a bright polish on hand for quick polish changes. Can't do a full mani in less than 10 minutes? Layer your new color over your existing paint job for a quick and creative update.
Photo: Courtesy of Essie
Bold Wing
Best for a night on the town, this extreme cat eye is easy to create but packs a dramatic punch. Try different colors of liner for endless update options.
Photo: Courtesy of Cushnie et Ochs
Monochrome Lid
Go bold with a swipe of eye shadow in a single color. Start at the lash line and work up to the brow bone.
Photo: Courtesy of NARS
Lipstick/Mani Combo
Love the color of your latest manicure? Why not match your lipstick shade to it? Go classic with a red duo or try something new and daring (purple, anyone?).
Photo: Courtesy of Zac Posen
Messy Brows
This look seriously takes 2 seconds to create but conveys a very high-fashion, runway look. Comb brows in all directions with a clear brow gel. Have thin arcs? Comb brows with a mascara in a shade darker than your hair.
Photo: Courtesy of NARS
Reverse Cat Eye
Cat eyes come in all shapes and sizes. Try one that comes from the lower lash line. Start 3 quarters of the way in and wing up and out toward the ends of brows.
Photo: Courtesy of NARS
Bright Lipstick
By far the easiest update on our list, a bright lip always makes an impact. Not into neon shades? Apply any color you haven't tried before. You might be pleasantly surprised with the result.
Photo: Courtesy of NARS