The Crucial Reason You Should Add Pantone's Color Of The Year To Your Wardrobe ASAP
Kirstin Sinclair/Getty Images Entertainment/Getty Images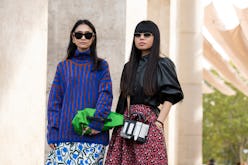 Like clockwork, the masses await with bated breath for the unveiling of Pantone's color of year. And whether the carefully chosen hue is to your liking or not, there's no denying its inevitable influence — with past shades like Marsala and Ultra Violet (which attributed to the consistent pastel trend). However, the 2020 pick, Classic Blue, is all about getting back to basics for the turn of the decade, which is bound to do wonders for your wardrobe.
Not to be confused with Cerulean or Midnight, this shade of blue, described by Pantone as the sky at dusk, is more than fitting, as "it's a color that anticipates what's going to happen next", the vice president of the Color Institute, Laurie Pressman, explained to CNN. But just like with anything else, it's impossible to look to the future without observing the past. This timeless shade of blue has a longstanding history of lending to an instantly polished look (think, well-tailored suiting separates, a simple knit jumper, or even a longline coat).
In addition to its sartorial appeal, there's apparently a science behind this particular shade of blue and its ability to make you feel good, says Pantone's findings. When you take into account its wearability and all the internal benefits of Classic Blue, it's probable this vibrant shade could even have minimalists lifting their ban on color.
That said, if you're still on the fence about adding something blue to your wardrobe, it might make sense to instead use this new color trend as a subtle pop to neutral outfits in the form of shoes, jewelry, or a handbag. This will allow you to dip your toe in and get a feel for the shade and its role in your life. For those who have no issues with going bold with blue, embracing the trend could mean a full monochromatic look or a super chic coat that's as practical as it is stylish. Regardless of your personal preference, the outcome will be the same — understated yet elevated no matter the pairings.
Rather than hold off until the New Year, below are a selection of styles Classic Blue that you can start adding to your lineup now to get ahead of what's sure to be one of the biggest color trends of the new decade.