6 Celebrity-Approved Ways To Try This Summer's Red Hair Color Trend
Theo Wargo/WireImage/Getty Images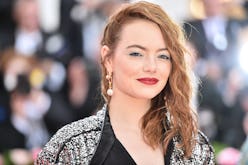 If the old idiom were true that blondes do actually have more fun, then how does one explain the unrelenting allure of being a redhead? Perhaps it's that copper-colored hair is now forever iconized by a few legendary Old Hollywood faces — Lucille Ball, Carol Burnett, Rita Hayworth — or that only about 2 percent of the population is born with it to begin with. If you happen to fall into the remaining 98 percent, it's highly likely that you've at least toyed with the idea of dyeing your hair red.
"In reality, natural redheads are a rare breed," says Nine Zero One stylist Anthony Holguin, who has worked his hair magic on the likes of Rumer Willis and Nina Dobrev. "I believe redheads will always be a staple in society, which will always be trending." Kim Kardashian's latest induction into the redhead club — with a dye job so cherry-like that fans initially assumed it was a wig — is proof of that sentiment.
But choosing the right red is where it gets complicated. "We've traditionally seen ashier, pale reds on lighter skin tones, bright reds on medium skin, and deeper reds and burgundies on darker skin tones," says Larry Sims, stylist to Gabrielle Union, Alicia Keys, and Danai Gurira. "I love seeing people that have created new narratives in choosing hair colors. We're learning more and more that rules are made to be broken."
Some celebrity-driven red hair inspiration, ahead.