These Underrated Heels Should Be At The Top Of Your Shopping List
Shutterstock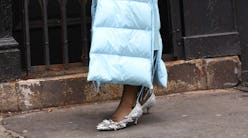 Kitten heels are a tough sell. This low-to-the-ground footwear trend is primarily appealing to those who appreciate them for either their comfort level or nostalgic qualities (If you don't remember, the '90s boasted some epic kitten-heeled moments). Regrettably, they don't exactly elongate your legs like a pair of high heels can, and the moniker itself can come off as slightly goofy. But, tackling how to wear kitten heels doesn't have to feel like you're swearing off stylish footwear altogether. This shoe trend still manages to make its way into some significantly chic collections. Accessories brand By Far, which has been virally adopted by the fashion crowd as of late, did several short-heeled styles for spring that are refreshing and even (gasp) a little sexy.
"We wanted to play around with the kitten heel as we find it very cool and nostalgic. Once you put them on, it immediately takes you to that 'I couldn't help but wonder' Sex And The City feeling," By Far Co-founder Valentina Bezuhanova tells TZR. "Kitten heels are perfect everyday shoes: you can style them with anything from bike shorts and cropped vintage jeans to a sleek slip dress."
Whether you fancy yourself a Carrie or not doesn't matter, there are plenty of kittens on the market in a massive variety of styles and aesthetics. Pointed toe ankle boots in bright whites, strappy sandals in candy colors, bijoux-bedecked pumps — all featuring a slim, short heel. To further help illustrate the versatility of the whimsical world of kitten heels, take in the street style looks below to gather a little outfit inspiration and shop your favorite shoes to make you, your shoe closet, and your podiatrist happier.
If your winter wardrobe is feeling stale (hang in there, one more month til spring!), invest in a pair of low-heel white ankle boots. They'll add a fresh pop to your outfit and conveniently translate to the spring season. Win-win!
If you take inspiration from the Olsens (who doesn't, really?) then a pair of sleek kitten heels should be in your closet. This look on Grece Ghanem proves how a short heel paired with a pretty blouse and trousers is enduringly chic.
Fashion Illustrator Jenny Walton is living proof that even if you're on the petite side you don't need to stomp around in high heels. Her glittery pumps look perfect with a pair of non-opaque tights and a powdery blue puffer coat.
If you live in a city like New York, you already know that heels are inadvisable. The solution? A pair of pointed-toe kitten heel boots, naturally.
Prada is renowned for making kitten heels cooler, especially with their range of color-blocked slingblacks that can be styled with everything from jeans to ankle-grazing frocks.
If you already opt for flat shoes in place of high heels but are growing tired of your loafers or sneakers, consider kitten heel pumps, like the tweed ones above and snake-print pair below.
Play with proportions and style a voluminous puffer with a structured jumpsuit and pointy kitten heel boots.
Ahead, More Kitten Heels You Can Wear Now Through Spring