12 Fall Essentials You'll Wear This Season And For Years To Come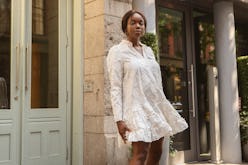 For us, being home this summer meant many a mezcal recipe and lots of closet purging. Out with the old and in with the new. But just like old lovers, we sometimes cling to things that no longer serve us. Whether it's a hoard of sweaters tucked away in storage or jeans you haven't worn since high school, we all have things we hold onto for far longer than we probably should — and what's more satisfying than replacing these long-neglected pieces with environmentally conscious alternatives?
Building a more sustainable wardrobe begins with finding pieces you'll love for years to come, not just for a season. In partnership with H&M, we've selected some of our favorite pieces that are as elegant and timeless as they are accessible. After all, a great wardrobe takes a lifetime to curate, so it only makes sense to build it out with pieces that will withstand both wear and time. From dresses made from recycled polyester to more classic staples, these are the pieces we'll be throwing into regular rotation for years to come.