12 Chic Home Accents That Are Perfect For Spring
CreativaStudio/E+/Getty Images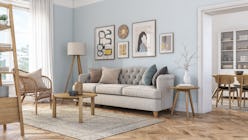 Whether you're seeing lush green treetops or snow-covered sidewalks when you look outside your window, spring is officially here — which means it's a great time to show some self-care by refreshing your wardrobe and your personal space.
Infusing your space with seasonal, feel-good pieces is among the best ways to get into the spirit of the season. And what better way to put a pep in your step than by surrounding yourself with poppy hues, luxe breezy fabrics, and blooming prints that can be delivered straight to your doorstep?
The great thing about simple seasonal swaps is that they don't require hours of tidying. It's easy to get an instant boost from a charming lamp in an of-the-moment jute fabrication, or in whimsical juice glasses that provide satisfaction with every sip. And to ensure your refreshed space is as clean and calm as possible, there's Clorox® Clean-up® Cleaner + Bleach, the best choice for killing 99.9% of viruses and bacteria.
Below are 12 hand-picked spring home accents to help spark some joy in your everyday life. After all, feeling good about your space is the first step in feeling good about the season.
For The Practical One
These floral watercolor and embroidered pillows work double duty. They provide maximum comfort on your bed or loveseat (the whole back is velvet), plus do a great job of cheering up just about any space.
For The Sun Lover
Create your own golden hour. Let the sun in with these white bohemian tiered curtains that filter in just the right amount of light. (For maximum brightness, rely on just one panel.) To keep them bright long after spring ends, use Clorox® Regular Bleach with CLOROMAX® as a spot treatment.
For The Flower-Obsessed
The best way to showcase spring's freshest blooms? Five sweet apothecary-style bud vases that are pretty enough to work as a centerpiece but can also act as a daily pick-me-up.
For The Artsy One
This bright art print adds a splash of color to whichever room you choose. Simply swap the jungle-themed piece into any frame for a seasonal refresh (it comes in several sizes) and admire the elevated vibe that comes with the use of a bold graphic design.
For The Organizer
Stackable tassel pom baskets in on-trend rattan are the perfect vessels for blankets, books, and tech items you want to keep handy. Bonus: They double as a place to store odds and ends when it comes to end-of-week tidying.
For The Happy Hour Enthusiast
What better to toast come 5 p.m. than with sunflower stemless glasses? Give them a full-time spot on your countertop before using them well into summer for all of your favorite summer sips.
For The Cozy Seeker
Swap out your fuzzy throw blanket for something lightweight yet chic. This tasseled style is made from ultra-soft cotton and looks just as good draped over your couch as it does draped over you.
For The Entertainer
These chip and dip dishes in pastel hues are perfect for making an afternoon snack feel special. Another idea: Scatter a few on your dresser to show off some of your favorite jewelry pieces.
For The Reader
Elevate your reading nook with a jute floor lamp — one of the season's trendiest materials. It's all about natural elements for spring, and this style looks just as pretty turned off as it does illuminated.
For The Whimsical One
These Pop Art-colored juice glasses boast a gorgeous ripple design. Choose from amber and purple shades, or mix and match for even more visual interest.
For The Romantic
An elegant floral motif makes this decorative tray the springtime star of your coffee table. Use it to corral books, coasters, and even objets d'art you want to show off.
For The Project-Oriented Personality
In the mood for a larger spring refresh but don't own your place? These loose vinyl panels can be cleverly laid right over original flooring for a hardwood look. Try this sleek light wood design in a bathroom, kitchen, or living room — you'll be amazed at how quickly it can upgrade a space.
This post is sponsored by Clorox.