Ingestible Beauty: Ingredients That'll Make You Healthier And Prettier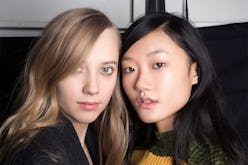 Makeup and skincare are integral parts of putting forth your best face, but a truly holistic approach includes what you put in your body. Skin is your largest organ, and it should be nourished from the inside out—when you're feeding yourself the good stuff, it'll show in your complexion. We tapped a panel of trusted wellness experts—Kristina Temelkovski and Maddison Osburn of Raw Complexions, Jack Latner and Fraser Thompson of Lifehouse Tonics, Giles Hayward of Torii Labs, Carla Oates of The Beauty Chef and Martha Soffer of Surya Spa—for insight into the ingredients, powders and tonics we should be consuming for our best possible skin. Here, their recommendations to supplement your topical product routine.
Beauty From The Inside Out
Hemp Seeds: According to Kristina and Maddison, hemp seeds are the gold standard of superfoods—they contain vitamins A, B, C, E and K, and are rich in minerals, enzymes and important amino acids that our bodies cannot produce on their own. They also contain a three-to-one ratio of the two essential fats—omega-3 and omega-6—which is considered the ideal ratio that no other nuts or oils have.
Coconut Water Kefir: Jack and Fraser equate the probiotic product with a prettier complexion. "The decrease in brown liver spots and the reduction of moles, warts and skin tags with continued use of coconut kefir is not uncommon. These skin benefits have been attributed to gut health, which has a direct correlation to overall body and skin health. Tonics made with the ingredient can be used to aid in the recovery of gut health and promote overall wellness and beauty."
Apple Cider Vinegar: The popular tonic is rich in minerals and enzymes, providing cleansing, antibacterial and anti-inflammatory properties. Kristina and Maddison call it a detox for your skin.
Kombucha: This fermented drink's benefits stem from its antioxidant and probiotic properties, which aid in ridding the skin of toxins but also hydrating and improving tone, texture and clarity. Kristina and Maddison recommend Brew Dr. Kombucha, which is 100% raw and organic.
White and Black Tea: Carla notes that these tea varietals are rich in skin-protective polyphenols that help fight free radicals and improve luminosity. They're also a great source of vitamins and fluoride for healthy, sparkling teeth.
GLA: "Gamma linoleic acid is amazing for balancing out hormones, which reduces nasty breakouts," say Kristina and Maddison. GLA can be found in hemp seeds and Raw Complexion Skin Balance beauty food powder.
Burdock: According to Giles, this plant has antibacterial and anti-inflammatory properties. "It helps kill off bacteria that contributes to acne," he says. "Its anti-inflammatory properties help reduce the swelling caused by acne as well as reduce scarring from inflamed lesions."
Mushrooms: Jack and Fraser cite certain mushrooms, like shiitake, to regulate the production of excess oil. High levels of vitamin D and antioxidants help keep pesky pimples at bay.
Aloe Vera: Having long been prized for its excellent soothing, healing and moisturizing properties, aloe and aloe juice are recommended by Giles, Jack and Fraser. "Aloe use has been documented for over 5,000 years, by the likes of Cleopatra and Nefertiti, and it's shown to have huge beneficial healing powers when used internally and externally," say Jack and Fraser.
Almonds: Jack and Fraser use almond milk as the foundation for many offerings at Lifehouse Tonics thanks to its soothing emollient properties. It can also relieve irritation and inflammation.
Ghee: Martha recommends a teaspoon of ghee (a practice reportedly favored by Kourtney Kardashian) every morning on an empty stomach 15 minutes before eating, to nourish dry skin from the inside out.
Omega-3s: Kristina, Maddison and Carla all cite the power of the fatty acids, which keep skin cells supple and hydrated. Found in such ingredients as flax and chia seeds (easily added to smoothies), they also inhibit inflammation and prevent skin flare-ups.
Mushroom: Jack and Fraser cite lion's mane mushroom as a superb anti-aging skin remedy. According to them, its polysaccharides strongly stimulate the creation of antioxidant enzymes, which are powerful weapons for fighting aging processes.
Bone Broth: Martha notes that the elixir (especially when made from the neck, feet and wings) is a rich source of collagen.
Shop Beauty Foods