How To Ensure You Get A Great Night's Sleep Every Night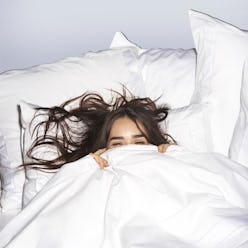 What is it about a hotel bed that makes your z's feel so utterly blissful? Fashion It girl and Yale MBA grad Nell Diamond aims to help you re-create those same plush vacation vibes in your own bedroom with Hill House Home, her new line of luxe linens at a price point that won't break the bank. We caught up with the 27-year-old bedding entrepreneur and fashion muse for her expert tips on shopping for sheets and getting the perfect snooze.
ON WHERE IT ALL BEGAN
@nelliediamond
"I created Hill House Home because I couldn't find beautifully designed, practical, high-quality bedding at a reasonable price point. I wanted to create a fun shopping experience because buying for your home should be easy, simple, and inspiring. There's nothing that makes me happier than a beautifully made bed. It's instant luxury—like you're on vacation at the best hotel every night."
ON WHY THREAD COUNT ISN'T WORTH THE HYPE
Courtesy of Hill House Home
"Thread count isn't a good metric to use when buying sheets, so focus on these factors instead: Origin, fiber and construction. The best cotton in the world is Supima cotton—it makes the most wonderfully soft fabric (and we hand-tested 1000s of different types!) Look for bedding made with long-staple cotton that won't pill or turn fuzzy. As a rule, the best bedmakers in the world are in Europe—we work with a family-owned factory in France where they've been making bedding for decades—they're true artisans."
ON HOW BEDROOM DECOR EFFECTS SLEEP QUALITY
@nelliediamond
"I really believe that if you go to sleep and wake up in a space you love, you'll be a happier, more productive person. In general, most people respond better to clutter-free bedrooms (specifically nightstands), so if you love your bedroom you'll go to sleep and wake up with a positive response to your surroundings. And there's nothing better than positivity to bookend your day."
ON THE SLEEP ATTIRE THAT GETS HER SNOOZING
Courtesy of Hill House Home
"I'm like a child—without real pajamas, I just can't get in the sleep mindset. We're coming out with HHH pajamas in February, so recently I've been wearing the samples we had made to test them."
ON HER VERY SPECIFIC NIGHTLY ROUTINE
@eve_lom
"I'm all about routines so mine is pretty specific. I'll finish up emails (or more likely Pinterest-ing) 30 minutes before bed, then put my phone and computer away to give my eyes a break. Then I brush my teeth, wash my face, put on about 42 different moisturizers and get in my pajamas. Depending on what time it is, I'll read a book when I get in bed or go right to sleep with a big glass of water next to me."
ON MAKING A DATE WITH YOUR BED
@hillhousehome
"Make a date with your bed and stick to it. I like to set an alarm for bedtime to keep myself accountable. I know I need around 7 hours of sleep so I set an alarm for 11PM most nights—that way there's no excuse for not getting into bed."
ON SAYING NO FOR SLEEP
Courtesy of Hill House Home
"Say no for sleep. Never feel bad if you have to cancel plans to take a nap. If you're feeling tired, your body is sending you a message that it needs to recuperate. Just make sure you actually go to sleep and don't check Instagram the whole time."
ON A DEVICE-FREE BEDROOM
Pinterest
"Give yourself at least 30 minutes of screen-free time before bed. This one's been really hard for me, but it works. Studies have shown that artificial light from screens can inhibit melatonin production—a major hormone that plays a huge role in telling our body that it's time to sleep. It took some time, but now I'm a convert to a device-free bedroom."