Iranian Beauty Founder Sharareh Siadat Wants Makeup To Be About Liberation
Beauty brand TooD celebrates freedom and self-discovery.
Courtesy of TooD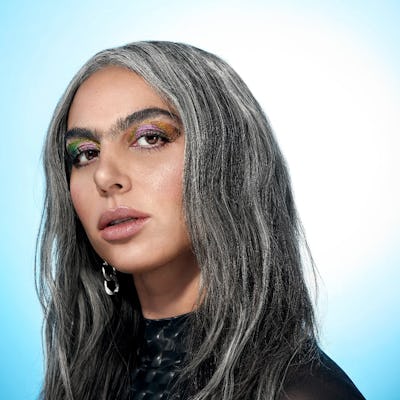 Before even the age of five, Sharareh Siadat, Iranian founder of beauty brand TooD, realized her appearance was different from her peers. "I am an Iranian-American, raised in Boxborough, Massachusetts, where I was surrounded by a sea of blonde hair and blue eyes," the founder tells TZR. "When I turned four, it was very apparent to me that I looked different. Because of my unibrow, darker skin, and hair covering my body — whether spoken or unspoken — I was made to feel different." This difference led to inner shame over her appearance for the first 37 years of her life as she struggled to embrace and accept who she was.
Growing up in 1980's Massachusetts during the Iranian hostage crisis, Siadat experienced discrimination regularly. Her family home driveway was targeted on occasion with racist statements written in shaving cream and was even set on fire to signify the strong anti-Muslim and anti-Iranian movement that was taking place. "When we moved to Florida at age 13, I tweezed my unibrow as a way to conform to Eurocentric forms of beauty, but also as a way to remove the Iranian flag smacked in between my eyes — it was a survival tactic because, back then, it wasn't safe for me to say I was Iranian."
Although Siadat viewed her unibrow as the darkest and most negative part of her for the majority of her life, things changed when she became a mother and decided she needed to be a symbol of individuality and embrace her native roots for her children to live in a world where they felt accepted for their appearance. With this realization, came the birth of TooD, a cosmetics brand centered on the celebration of individuality.
Launched in 2021, TooD focuses on creating a space for all people — regardless of gender, ethnicity, or appearance — to help individuals reclaim their beauty, history, and culture that European ideals rob from so many. The brand sells high-performing, beautifully pigmented, and clean products. Amidst the collection is mascara, brow soap, cream eyeshadow, biodegradable glitter eyeshadow, and nail polish.
Ahead, TZR sat down with the Iranian entrepreneur to learn more about the origins of the brand, her personal journey to self-discovery, and how the brand encourages uniqueness.
The History of TooD
Removing her unibrow at age eight gave Siadat a glimpse into acceptance and set her on a two-decade journey of lasering, waxing, highlighting, and hiding. "We moved again at 16 to New Jersey and I even lied about my ethnic background, telling people I was half-French, half-Greek," the entrepreneur tells TZR. That's the complicated thing about feeling othered — you experience so much bullying and hate, both from others and yourself, that you find a new way to be. "I moved to NYC for college and then followed what was expected of me: I started working, got married young to a white Anglo-Saxon, and gave birth to two blond haired, blue eyed children. I strongly believed my Iranian heritage had been erased and my alibi of pretending to be white was on lock," the entrepreneur tells TZR. "My name [at the time] was Shari Loeffler and no one would ever know about my unibrow days as Sharareh Siadat. In these years, whiteness completely controlled my conscious and unconscious thoughts."
Siadat saw hiding who she really was as the only option into acceptance and normalcy. "The way society treated me for being Iranian in the formative years of my life created unconscious patterns, making me believe I didn't have a choice [but to suppress who I was]," she claims. "And that's why TooD is TooD. It shows people they have a choice towards how they view themselves and the attitude they put forth. I never knew I had that power."
It wasn't until her third child was born that she started actually tapping into this power. Selene, her youngest, was a physical mirror reflection of Siadat — dark skin with wispy hairs around her upper lip and full, prominent eyebrows. Except, instead of criticism, Siadat saw beauty in her child and realized in order for her daughter to feel confident, she, her mother, would have to first lead by example. "I really didn't want my kids to feel the level of pain that I felt throughout my life," she explains. "So I decided I needed to show them a woman who stands up to the face of a society that might not celebrate her being who she is and how she was born." For Siadat, that meant growing back her unibrow and learning to love her natural appearance.
And that's why mental health is peppered into TooD. "I realized how much my mental health was suffering based on the images I saw in the media and the conversation around what was beautiful," Siadat continues. "I was conditioned to feel that I was not worthy because my form of beauty was never celebrated, and society continues to prove that to me based on their comments."
But fortunately, with the birth of Selene coupled with Siadat growing back her signature unibrow, she realized breaking down beauty constructs allows you to make your own rules. "I asked myself these questions: 'What are the rules that I want to live by as it relates to beauty, as it relates to my relationships, but more importantly, as it relates to myself?'" the founder shares. What she found was a glorious level of stillness where she met herself without noise to realize clearly her definitions of beauty and reclaim her given birth name.
TooD's Multi-Faceted Approach To Beauty
Inspired by the discrimination she felt for a majority of her life, Siadat had some non-negotiable elements that were important to include in her brand ethos when starting TooD in 2020. As a long-time surfer, it was very important to Siadat to stay clear from packaging that added more micro plastics to the ocean. In the same vein, another pillar of TooD focuses on clean ingredients — avoiding parabens, aluminum, and excess plastic — that don't harm the body or environment. And the final component is wellness-focused: The collection also had to be good (healthy, non-confrontational, and confirming) for the mind, with vibrant colors, textures, and finishes delivering feel-good beauty looks.
With that, the brand's integrated approach to clean beauty is one of body, earth, and mental health. "No harm to our endocrine system, no harm to our bodies, no harm to the earth, and no harm to our mental health," Siadat continues. "TooD is an answer to a sustainable, regenerative, community-based model for connection to self." The brand runs on the belief that when you honor and love yourself, you will then honor and love your community members and the earth.
Yes, TooD sells beauty products, but for Siadat, she is in the business of freedom. The company's goal is to create clean, colorful products that allow people to express themselves without repercussions. "[What we stand for] parlays what's happening in Iran and the collective liberation for all," the founder shares. "Iranians focus on appearance. From a young age we are told what we should look like, what we should cover up, and that we are not worth as much as a man." But similar to the young Iranian women cutting off their hair and Siadat growing back her unibrow, the overall goal is still the same: the fight to free oneself and take back power.
Prioritizing Representation
TooD was born to celebrate idiosyncrasy and be a visual representation of all people. The brand encourages consumers to look how they please, instead of pleasing others, employing models of all colors, sizes, genders, and backgrounds to convey the message that beauty manifests in a variety of ways and should be celebrated as such. "When I faced what I was suppressing, my patterns started to change, my aura changed, my energy changed," says Siadat. "I was not hiding anymore but instead embodying who I was. At this point, I was 37 years old. For the first 37 years of my life I did not know what it felt like to feel OK being myself, with the face I was born with."
Siadat recognized that this all-too common demand for whiteness was deeply rooted in the belief that Eurocentric standards are law. What she aims to do at TooD is correct this damaging standard and prove that it is not reflective of the majority of the world's population. And while her work is certainly a success and a large step in the right direction, it also shows how far we still have to go in terms of media inclusion and representation.
Said representation needs to be a catalyst for marginalized communities, to hopefully one day not be marginalized at all. Because here is the truth: Some people have unibrows. Some people have darker skin tones. Some people aren't sample size. In 2023, beauty exists in all forms and that's exactly how it should be, because there shouldn't be any "shoulds" at all.