This Nail Polish Trend Is About To Blow Up, According To An Instagram Nail Artist
Matteo Valle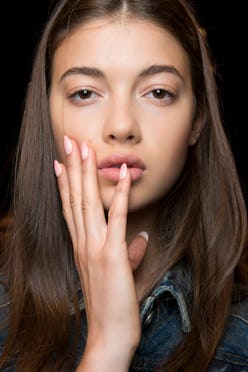 Scroll through your social media feed and you're guaranteed to come across too many manicures to count—let alone determine if there's a new trend. So, to make sure we are the first ones to wear the next big thing in nails, we tapped one of the most popular nail artists on Instagram, Fariha Ali, also known as Nailjob, to break down the nail polish trend that's about to blow up.
Fariha describes the look as, "the kind of trichroic shade that nail artists have been trying to achieve for a while now, but it was only available in strips or as plastic press on nails." Different from the holographic shades that already made the rounds on social media (the ones that look multidimensional in a glittery way), this shade gives a mirrored effect without the sparkle. "Until very recently, there wasn't anything that would allow for us to do a full coverage with that color."
The best part is, it "looks amazing on all skintones, and is the perfect summer shade for those who usually opt for white for summer." As it turns out, the opalescent trend isn't just the next big thing in lip gloss—it's now huge for nails, too.