These Nail Trends Are Going To Be Huge This Summer
Matteo Valle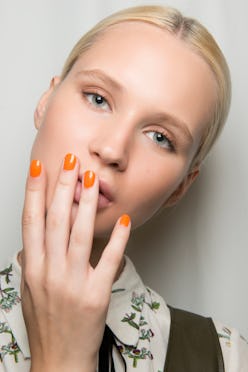 Whether you're into intricate nail art or prefer a solid color, knowing what's coming for the season ahead is the difference between a manicure that's strikingly cool and one that feels outdated. To make sure you stay at the forefront of the newest trends, we've rounded up our favorite looks from the spring runways. Flip through for eight manicures that are about to blow up.
Nails take on major pops of color next year. From tangerine orange to bold blues, bright hues have never looked so chic.
Painting all your nails in a cohesive shade or motif is so last year. In 2017, every nail has its own identity, whether a solid color or a hint of rainbow.
Nails take on a vampier look next year. Ranging from deep reds and navy to brown and black, dark polishes are perfect for every skin tone and look great on all nail shapes and lengths.
When in doubt, go with something impossibly fresh. Clear polish on clean nails is the understated look that continues to be a staple on runways from Milan to New York.
Have some fun with your nail art. Go for geometric shapes like circles and squares and try an achromatic design on a single finger or go all out with every nail.
Ranging from holographic silver to high-shine gold, metallic lacquers had a major moment on the 2017 runways and we're excited to see them make their way onto the beauty-junkie circuit next year.
If you want to infuse some color into your beauty routine but candy hues aren't your style, pastels are just as fresh, whether you prefer an almost-nude apricot or something soft and pink.
The old-school French tip takes on a new spin for 2017. Whether it be metallic finishes, new angles or alternating colors, the classic mani gets a fun face-lift.