6 Ways To Step Up Your Ponytail Game Right Now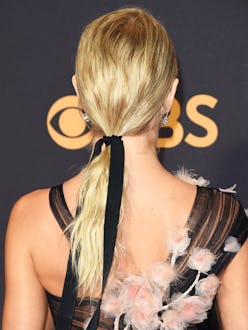 Ponytails get a bad rap for being basic, and while they may be our go-to on a lazy day, that doesn't mean we can't step it up from time to time. Breathe new life into your updo with these six celeb-inspired hacks that'll take you from blah to badass in seconds. It's time to give some much-deserved credit to our beloved ponytail.
Add A Simple Ribbon
Sometimes less can be more—especially when it comes in the form of an undone bow wrapped around a low ponytail. If Julianne Hough can wear the look on the 2017 Emmys red carpet, surely you can make it work at work, on the town and anywhere in between.
Try A Bubble Pony
Perfect for adding volume (and hiding extensions), this look is cute, whimsical and sure to turn heads. Create a high ponytail and secure with an elastic. Use thin, clear elastics to create the bubble illusion from the base all the way to the ends.
Mix It Up With A Braid-Ponytail Hybrid
Perfect for keeping bangs out of your face, this braid-pony twofer is also an easy way to step up your style game. Create a center part, then section off a couple inches on each side to create two French braids. Pull the rest into a high ponytail.
Braid The Tail
Love a plait-pony mix but don't have time to pull off a French braid? This simple style is as sexy as it is easy to create. Pull hair into a high ponytail, braid the shaft, then secure with a clear elastic. Pull apart slightly to create the illusion of thickness.
Accessorize
There's no better way to take your ponytail from boring to banging than by adding some bling. Whether you use a metallic elastic, shiny barrettes or actual jewelry, a little sparkle goes a long way.
Double Up
When in doubt, add one (or two) more. Start by creating a high half-up ponytail and secure with an elastic. Gather the remaining hair and the first ponytail to create a second and secure with an elastic. It's modern but so easy to do. Win-win.