Angelina Jolie's Beauty Routine Consists Of Just One Product
Matteo Prandoni/BFA.com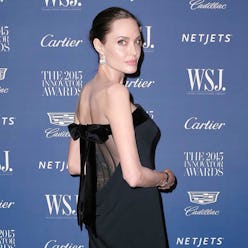 We've always been curious about Angeline Jolie's skincare and makeup routines, since the actress and activist is one of the most beautiful women alive. In a recent interview with Hello! , Angie opened up about her makeup staple as well as sharing her refreshing take on aging.
As far as products go, she keeps it to a minimum—in fact, she only uses one when she steps out: She swears by under-eye concealer to cover up any dark circles. At 41, she's managed to keep her skin looking naturally youthful and radiant throughout the years, making us curious about what her antiaging routine is.
As it turns out, she doesn't necessarily have an antiaging routine—because aging isn't something she fears. Angelina told Hello that after she suffered two cancer scares during the last decade, she began putting her health first. Rather than worrying about aging, she revealed, she cares about staying healthy and keeping her children healthy. We totally understand where she's coming from, and her mantra is proof that while aging is certainly a concern for most, it's not a top priority for everyone.
While Angie's certainly more under-the-radar nowadays, Guerlain announced earlier this year that she'd serve as the face of the brand's new fragrance, Mon Guerlain—we look forward to seeing how her fresh approach to beauty will impact the campaign.