13 Glow-Giving Products You Need To Nail The Post-Gym Skin Trend
Just back from the gym? Nope, it's just my skin-care routine.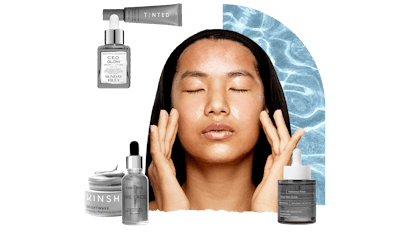 Here's the thing: The sweltering hot temperatures aren't a thing of summer's past just yet. And that means putting on makeup after an endorphin-boosting workout is even more difficult given our body temperatures are cranked up and it's likely to just melt right off. With that said, "post-gym skin" is officially trending this season, and we can see why: After all, who doesn't love the gorgeous afterglow you get after a good workout session? The glossy sheen on your cheeks and the natural rosy flush that makes you look fresh and vibrant? Yeah, we're all for it.
That's why, this season, we're ditching the post-workout makeup and instead opting to let our au naturel skin shine through. Albeit not without the help of some powerhouse skin-care products from our friends at Ulta Beauty. Here, we took the liberty of compiling our favorite formulas that work to hydrate, protect, and make skin glow, all while letting it breathe at the same time.
Keep reading to learn more (and shop!) our must-have products for scoring skin that looks like you just left the best workout of your life.
Hydrate
Hyrdated skin is glowy, plump, and all-around healthy-looking. Hence why it's super important to load up on intensive hydrators in order to maintain that just-back-from-the-gym radiance we're all coveting right now. (Pro tip: Don't forget about your lips!)
Protect
One of the major tickets to healthy skin success? Sun protection, of course. That, and safeguarding your skin from everyday environmental aggressors like pollution, too. Stock up on glow-boosting sunscreens and antioxidant-rich formulas (hello, vitamin C) to keep your skin radiant and resilient.
Glow
Post-gym skin never looks dull, sallow, or lifeless, right? More like warm, subtly flushed, and supremely glowy (thanks for that, sweat). So with that in mind, go ahead and embrace the mega-glowy life with products that enhance the look even more.